As we age, our skin begins to show the effects of sun, gravity, volume loss, and years of muscle movement. This results in facial creases, folds and wrinkles in areas such as cheeks, nasolabial folds, lips, and chin.
Soft tissue fillers are used to fill in these lines and creases, temporarily restoring a more youthful, natural, and smoother looking appearance. Fillers are placed just under the skin to smooth out fine lines in areas around the mouth, in the frown lines, and fine lines on the chin. Fillers can also be placed in deeper in the skin to fill in heavier lines such as in the nasolabial folds and corners of the mouth. Acne scars, chicken pox scars and surgical scars can also be corrected with dermal fillers. Fillers are also used to restore volume in tear troughs (or under-eye hollows) and the restore volume in lips. Soft tissue filler can also be used to enhance volume loss in the cheeks and temples, to restore the natural fullness and curvatures seen in a youthful face.
Fillers can be used on their own or in conjunction with botulinum toxins (Botox®, Dysport®, Xeomin®) and laser treatments. Some dermal fillers can enhance collagen production, thus improving the effect of the other treatments.
Type of Fillers
Juvederm Ultra®/Ultra Plus®/Voluma® , Restylane®/Perlane®, Belotero Balance®
Juvederm, Restylane, Perlane, and Belotero are non-animal hyaluronic acid (HA) fillers that are used for lip augmentation and to soften the nasolabial folds, crow's feet, and frown lines. These fillers are temporary and last an average of 6-9 months, although some results will last up to 1 year. The duration depends on the type of filler used, the area that has been treated and the condition of the treated skin. Your doctor can advise you of the best filler option for your concerns and needs.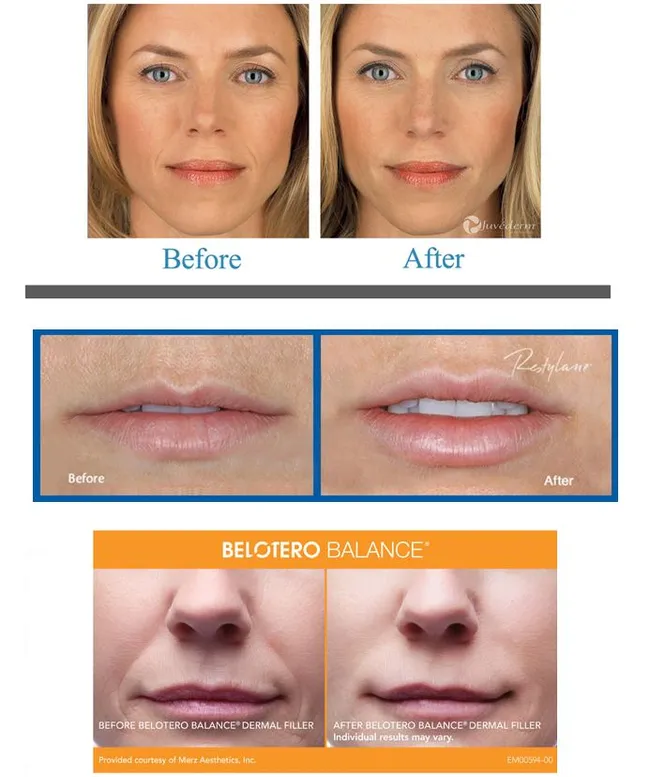 ---
Juvederm Voluma™XC
Juvederm Voluma is a hyaluranoic acid gel that is injected into the cheeks to restore volume and to create a subtle lifting effect. Voluma helps to reestablish the natural youthful contours in face. The results from this treatment can last up to 2 years.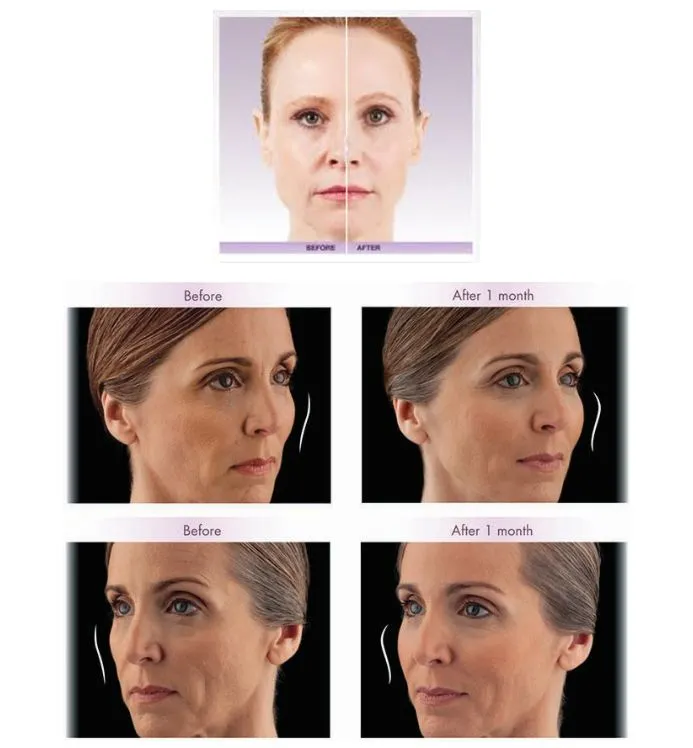 ---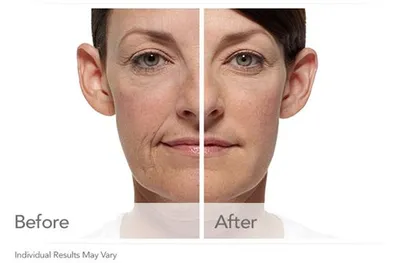 Radiesse®
Radiesse is a volumizing filler composed of calcium hydroxylapatite microspheres in a gel carrier. It can be used to treat moderate to severe wrinkles such as the nasolabial folds and jowls. Radiesse is also used to correct volume loss and can be injected into the cheeks and temples to add support to these areas and improve skin laxity, resulting in a more youthful appearance. Radiesse can be used to improve acne scars as well. Radiesse has been clinically proven to last a year or more in most patients and can enhance your own collagen production.
---
Sculptra® Aesthetic
Sculptra treatments utilize a facial injectable solution consisting of poly-L-lactic acid that is administered over multiple sessions. It helps to gradually restore volume and correct depressions and is used to treat skin laxity, creases, wrinkles, and scars. Sculptra is composed of a biocompatible and biodegradable synthetic polymer which has been used medically for many years in dissolvable stitches, and does not require pre-treatment skin testing for allergies. Sculptra treatment involves a series of injections, requiring an average of 2-4 sessions usually spaced 3-6 weeks apart. Depending on the area treated and volume of product injected, the results can last 1-2 years.
---
General information regarding fillers
Anesthesia: Many fillers contain lidocaine (anesthetic) which reduces the discomfort of filler treatment. If you prefer, you may come in 1 hour prior to your treatment time to have topical numbing cream applied to the treatment area to further reduce discomfort. Please discuss this with your treating physician.
What to expect: The most important fact to remember about these fillers is that they are temporary. With time, they slowly and gradually metabolized by the body. Response and duration is dependent on type of filler used, where the filler is placed, as well as other conditions such as age, skin quality, genetic background and lifestyle and habits. Fillers may be used on their own, however the effects of filler can enhance or be enhanced by other cosmetic treatments such as botulinum toxin injection and laser treatments.
Risks: Injections of fillers may cause redness, mild swelling, and temporary mild to moderate bruising in the treated area. Occasionally there may be small lumps or minor nodules that develop in the treatment area. Most small lumps or nodules are temporary or treatable. Skin testing is not required for these fillers but rarely patients may exhibit a localized hypersensitive reaction. Other possible but very rare side effects include infection, acne-like lesions, minor skin breakdown and scarring.