Ultherapy®, known as the non-invasive lift, is focused ultrasound energy delivered to the dermal and deep layers of the skin without affecting intervening tissue. Over a two to three month period, weak collagen is reorganized and strengthened with the growth of new collagen, which in turn tightens and lifts the skin. Unlike lasers and other technologies, Ultherapy® avoids the surface area of the skin, delivering the appropriate energy at the right depths and temperature for collagen generation. The main treatment areas for Ultherapy® are around the eyes, cheek area, jawline, neck, and recently added décolleté area (chest) to improve the appearance of lines and wrinkles. While Ultherapy® isn't a replacement for a face-lift, it is a great non-surgical option to tighten and lift the treated areas with minimal to no downtime.
The first step in the procedure process for Ultherapy® is meeting with your provider to assess your skin and determine if you are a good Ultherapy® candidate. When you come in for your Ultherapy® procedure, we will take a series of before pictures so we can gauge your results over a three month period. The physician will mark out your optimal treatment areas. The provider uses the ultrasound imaging to determine the ideal placement of the energy and then will deliver the energy to the focused area underneath the skin. In order to deliver the appropriate amount of energy to stimulate the collagen reproduction to take place, the provider will need to deliver a certain number of pulses to each area. Treatments typically take anywhere from sixty to ninety minutes depending on the treatment area. You will feel the energy being delivered underneath the skin with the sensation subsiding after the pulse in each specific area is complete. While comfort levels do vary from patient to patient, there are a number of options available to make the procedure more comfortable. These options will be discussed during your initial consultation.

The beauty of Ultherapy® is that there is no significant downtime or restrictions, which is why Ultherapy® has been coined the "Lunchtime Lift." While you can expect some mild redness immediately after the procedure, it should disappear within a few hours. Some patients may have some mild swelling and soreness to the touch after the procedure, but these are also temporary and resolve on their own in a short period of time.
Ultherapy® is the first device to combine high frequency ultrasound imaging with therapeutic treatment, allowing providers to see and target the layers of sub epidermal tissue before the energy is delivered. Ultherapy® was developed by Ulthera Inc., a global, high growth medical device company, first gaining FDA approval for lift indication to the eyebrows in 2009. Since 2009, Ultherapy® has established itself as the only FDA approved procedure to non-invasively lift the eyebrow, neck and under the chin and most recently has received FDA approval to improve décolleté lines and wrinkles. Currently any other treatment areas other than the indicated are considered off-label, and Ulthera Inc. continues to pursue additional treatment capabilities and expand their platform for the years ahead.
Are you an Ultherapy® candidate?
Ultherapy® has treated both men and women seeking a non-invasive alternative to plastic surgery. While the ideal candidate is determined by skin laxity, it is best to seek the expertise of a provider at Wilmington Dermatology Center to determine if Ultherapy® is the best treatment for you. Patients should disclose to the physician if they are pregnant or breastfeeding. For full product and safety information please click here.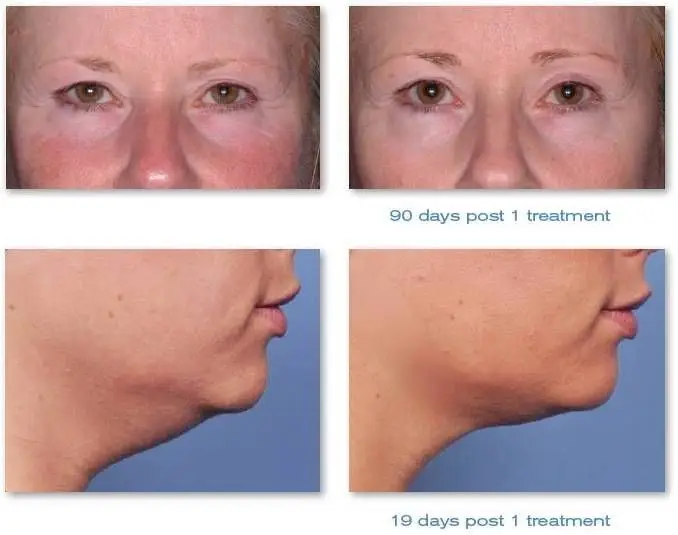 ---
Ultherapy® Frequently Asked Questions
What is Unique about Ultherapy®?
Ultherapy® is currently the only FDA approved non-invasive treatment with a lift indication and the only procedure to use ultrasound imaging in order to target to appropriate layer of skin.
Can Ultherapy® replace a facelift?
While surgery is still the gold standard, Ultherapy® does treat the same foundational skin layer as cosmetic surgery. Ultherapy® is a great option for those either not ready for or not interested in a face-lift.
How long does the treatment take?
Depending on the treatment area, Ultherapy® can take anywhere from sixty to ninety minutes.
When will I see results?
Some patient will see results immediately after the procedure, but the ultimate results will be seen over a two to three month period of time as your body regenerates the collagen. Some patients will continue to see results up to six months.
How long do results last?
The results of the Ultherapy® procedure are permanent. You must keep in that that your natural aging process with continue and determine how long your results will truly last.
Who is a good Ultherapy® candidate?
The best way to determine if you are a good candidate is to consult with our providers. While the ideal candidate has mild to moderate skin laxity, our doctors will examine you look to establish if this is the best procedure option for you.
What, if any, are the Ultherapy® side effects?
Most patients will experience mild redness after the procedure, which diminishes shortly after the procedure. Some patients may feel sore to the touch in the treated areas and there is a chance of mild swelling and possible bruising.
Can I have Ultherapy® before a big event?
No. While Ultherapy® is a non-invasive procedure, it does still have potential for swelling and possible bruising.
How many treatments will I need?
While most patients will see optimal results with just one treatment, there are occasions where two treatments may be recommended. This will be addressed and decided prior to your first Ultherapy® appointment during your consultation.